Hi Bellas,
I'm back with day two of Fashion Week Coverage. Project Runway has always been one of my favorite reality tv shows. When I picked this show to cover, it didn't dawn on me that they'd be keeping the show secret until the footage aired on tv, dope! However, we did get one sneak peak at the show. Here's a shot of the judges along with guest judge, the fabulous Kerri Washington.
Since we can't get a sneak peak of the collections just yet, I thought I'd give you a breakdown of how to recreate Heidi Klum's gorgeous look.
Heidi is rocking an amazing metallic BCBG Gown that shined in different rainbow hues. Her makeup is totally fall appropriate with a range of browns and neutrals.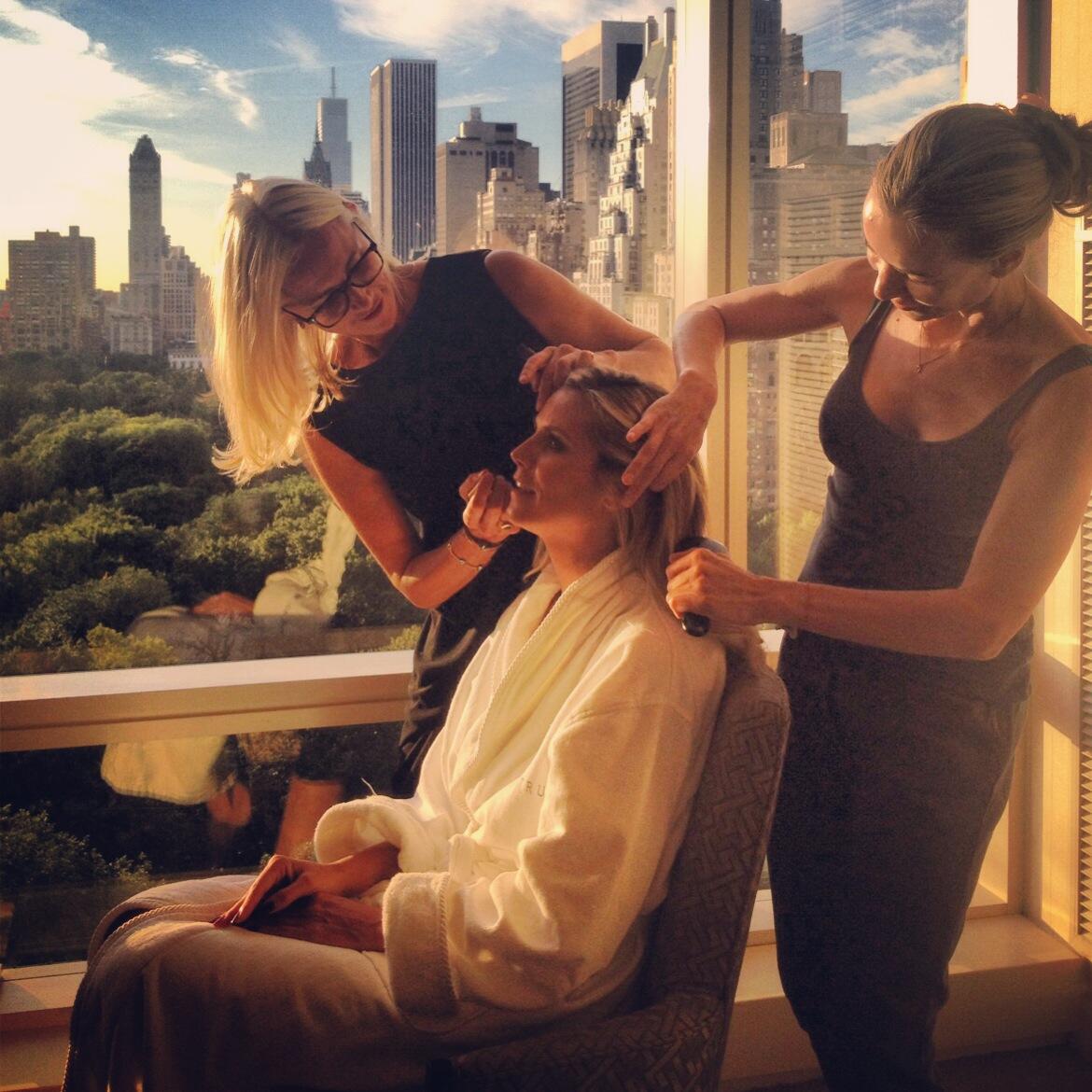 Heidi's MUA applies bronzes and nudes to give her a sun-kissed look and also not to take away from the gorgeous gown.
Picture Credit to Getty Images and Heidi Klum on Twitter
Here's how to get Heidi's Look:
Contour your skin with a darker foundation like
RCMA for Alcone in Shade # MB5
. It will give you that bronzey glow in a natural, lit from within way. You can skip the blush because the bronziness already adds color to your cheeks.
I recommend taking some
neutral shadows
from Alcone at Home in a mix of matte and shimmer for balance. Apply a shimmery tan to the lid (shade #14).
Next, apply a medium brown to the crease (shade #7) to help blend.
Last, add a chocolate brown (shade #8) to your outer v and the outer half of the lower lashline to smoke out the look without making it too heavy.
Apply a gorgeous shimmering blush to your cheeks (
Alcone Blush #6
) to give you a glow.
Finish off with a nude mauvey lip.
Alcone Lipstick #8
).
This is a gorgeous look that will look good on everyone. I love that it brings out your natural beauty so you can let your statement dresses shine. Perfect for Fashion Week! Throw it in a little palette and you're good to go! You can find these product at my Alcone Webstore at
www.alconeathome.com/makeupbyrenren
FTC Disclosure: I host and pay for my own web store to house these products and receive a portion of the sales. This post contains affiliate links. These are my honest thoughts and opinions.