Hi Bellas,
I'm super excited to share this new video with you. I've finally come through on my purchase to get a new DSLR camera and lighting set-up. It was a birthday gift to myself and totally worth it. This is my first vid/post using my new filming set-up. In this video I also show you my evolution of cameras and lighting set up on the nearly 5 years that I've been on YouTube. Hopefully this helps my fellow vloggers out there. Check it out!
Check out the video!

Camera:
I'm now using the Nikon D7000 DSLR. I purchased the camera body that came with the 18-105mm Kit Lens. The lenses can actually be more expensive than the camera itself. Another good lens to purchase is the 55mm which is great for product photography.
Backdrop:
I'm using a white canvas photography backdrop that is simply pinned to my wall. We use this in my studio room for photoshoots. You may have seen it in my past videos as well. I prefer white because it looks clean and doesn't distract from the video. This is a similar back-drop but mine is pinned to the wall.
Lighting from the front:
I am actually using a total of four lights. Two of these are umbrella lights that are set up in front of me from the left on right. They are on tripods and positioned to face down on me. This lights my light up from the front and since there are two, I don't have too many shadows. This is the type of lights I have...the Umbrella really softens the light and it doesn't feel as hot. I'm thinking about looking into bulbs that don't emit so much heat.
Lighting from the back:
I have two photography lights behind me that are actually parallel to the lights in front of me. However, they are facing the backdrop and that's what gives it the super bright, illuminated from behind look. In the video, there is a shadow in the top right corner, meaning that I'm just going to try and point the light pointed up a little more. These are the type of lights I have except mine extend pretty far up...I have either a 300 or 500 watt bulb in them.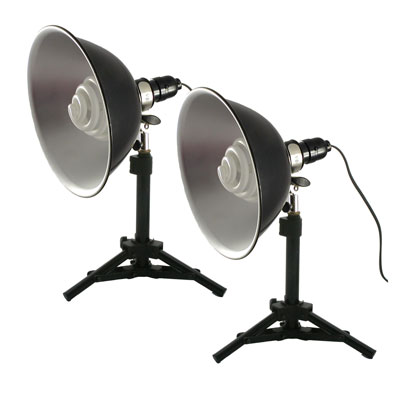 Table and Chair:
I'm actually using a simple fold out square card table and folding chair that I got from target. The height was right, and I can fit a lot on the table since it's pretty deep...including my makeup, brushes and mirror. I use this specifically for filming now. In front of the camera I have my camera centered on a tripod and the lights are to the sides of it. This picture shows the chair and table from Walmart. Simple but it works!
Hope this was helpful! Let me know what you guys think of my new video quality and I'd love to hear some tips if you have some, thanks!
FTC Disclosure: Post not sponsored. All products purchased by me.
Atlanta Makeup Artist
Atlanta Photographer