Hi Bellas,
I jump started my healthy New Year's Resolution by doing the Beachbody 3 Day Refresh. I did this before Christmas after a very unhealthy November where I celebrated my one year anniversary, my husband's 40th birthday and Thanksgiving - talk about overindulging. Today I'm giving you my honest thoughts about the cleanse as well as my results. Check it out!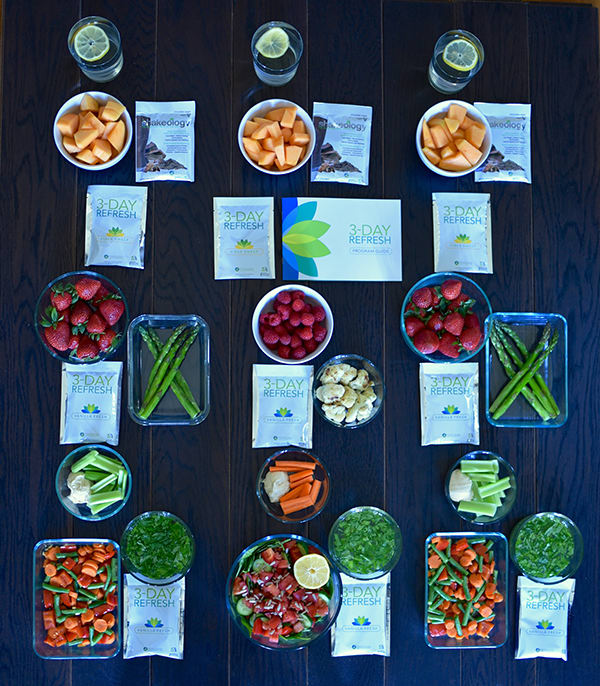 *Picture from www.BeachBody.com
Check out the video!

The video pretty much says it all...the truth and nothing but the truth. I purchased the
3 day refresh
on Amazon Prime, this is not a sponsored video.
For my meal prep, I kept it very simple. I found a
beachbody blog post
with some easy recipes and this is what I pretty much ate in addition to the Shakeology (I chose the Chocolate Flavor) and Fiber Sweep Shakes. Unfortunately all my pictures of my meals were lost when I replaced my phone just this month, but the food is pretty simple.
Drink: Water with Lemon slice (you need to drink a lot of water on this plan!) I also had a caffeine free, unsweetened Chamomile tea in the evenings.
Snacks: Baby Carrots or Celery and Hummus (pick one with a short, simple list of ingredients)
Veggies: Roasted Asparagus and Cauliflower
Dinner: Stir Fried Veggies
Fruit: Cantaloupe or Raspberries
I love fruit so eating the fruit portions was always a treat. I found it really simple to cut a cantaloupe ahead of time and pre-portion it.
In terms of Veggies, I loved the Roasted Asparagus - I found myself devouring multiple servings. The Cauliflower was just okay, I think i'm good at just one serving of it.

I made the Beachybody Stir Fried Veggies recipes...I ate that for all my meals and after the second serving I was sick of it. I should have made one of the salads they recommended. By the last night, I just opted to eat my roasted veggies instead of the stir fry.
Shakeology:
I've always wanted to try these shakes as I've done many Beachbody programs in the past...but the price really deterred me. The taste itself was good...I was actually surprised at how rich and chocolatey the shake was and I can definitely see myself drinking it on a regular basis. However, I am not convinced that it is mandatory. I like my
FitMiss Protein Shake
and I still use it after I ran out of Shakeology.
Fiber Sweep
I was surprised at how thick the Fiber Sweep drink is. There is definitely fiber and chia seeds in it which give it a light apple sauce texture. It's a little bit sweep and I actually like the texture. I kind of drink chew it. As far as it making me go #2, I felt full, a little gas-y, but I didn't find it helping me with a bowel movement. But then again, i'm pretty irregular - sorry if this is TMI.
Hunger:
I was definitely missing eating something substantial like meat or even nuts. Just eating fruits and veggies started getting particularly tough in the evenings. They also said you can drink Vegetable Broth with dinner and I wish I had done that as I was most hangry at nights.
Working Out:
I really didn't do much working out during this time. I was a little low energy at points and my work out videos are pretty intense. They do suggest some light activity like walking.
Results:
I was 3.6 pounds lighter when I weighed myself on the 4th morning. that is definitely the most amount of weight I have ever lost in such a short period of time. My stomach was also much flatter. However, after I started doing the Beachbody meal plan for the Core de Force DVD workout series, I noticed I gained a pound back not much later. I'm not sure if it's water weight but I think it was a good jump start to any fitness or lifestyle change.
Would I do it again?
I would definitely do it. The results spoke for themselves and while it was starting to get a little difficult at times it was bearable. It's a great quick cleanse.
Hope you all thought my post was helpful. I'm currently onto another cleanse for the New Year! Stay tuned for the results!