Hi Bellas,
Happy Thursday. I've been a bad blogger this week. Work has beyond crazy! Back to regularly scheduled programming. Today I wanted to share with you a few pieces I purchased - all fun jewelry! I think these pieces really add a little something something to an outfit. Check it out!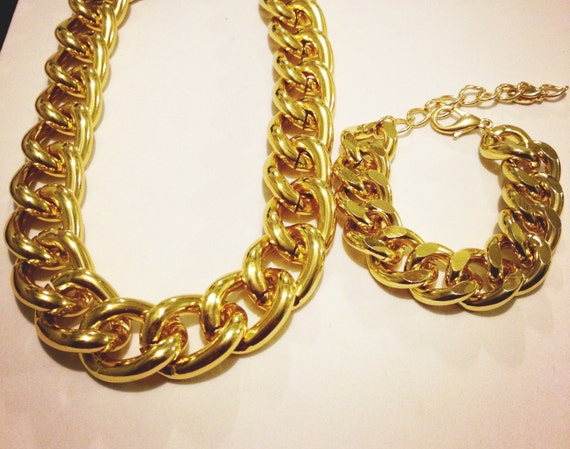 I had some old credits on JewelMint so I thought I'd pick up a few pieces. First off is this statement necklace. I see myself wearing this with a simple blouse. Still haven't worn it though - it's not an everyday piece lol. In person it looked a little cheaper than on the site because of the white ribbon tubing at the top but overall I like it. The pastels are perfect for Spring.
I also picked up this gold cuff with blue leather detailing. This cuff is so small! I feel claustrophic wearing it lol. I'll probably just give it to a friend.
I purchased a few chain necklaces/bracelets because they are super hot right now and you can pair them with a million outfits from casual to fancy. I purchased mine from the seller CoCoPynk on Etsy. First off is this silver necklace. I was disappointed because the chain is actually a coated plastic. It's super lightweight and kinda cheapo.
The next set for $27.99 was a bit better. It's real chain and nice and heavy. It also came with a pair of earrings that I gave to a friend because my ears aren't pierced. I was a bit disappointed about the ribbon closure on the necklace though - mind you they didn't show this in the picture on the site, a bit misleading. It's already fraying. If it had a regular clasp like the bracelet it'd be fine.
I'll rock the etsy pieces but now I realize that the cheaper items were cheaper because they cut back a bit on the closures and quality. Ah well, lesson learned!
I'll have a new video up tomorrow. Till next time, Ciao Bellas!
FTC Disclosure: Post not sponsored.